Clients have many questions when it comes to considering setting up a digital retainer for their website. Here we have tried to dispel the myths by answering a few of these below:
What is the benefit of an agency retainer?
The primary benefit is that your website will be reviewed and updated on an ongoing basis. Think of your site like a new car, you drive it away from the garage, but know that it needs regular LTC in the form of fuel, cleaning, oil, screen-wash together with more comprehensive care such a servicing and an MOT. Your website is much the same, give it a little love and it will last much longer! Technology is an ever-evolving process and staying on top of security updates, new software releases, Google algorithm updates and more, all ensure your site doesn't end up dated and lost in the rabbit hole that is the internet.
Secondly, as part of Ultimate's retainer contract, clients will have regular meetings with their Ultimate account manager, working together they ensure recommendations are made to keep your site up to date. For example, when the latest GDPR updates were announced, retainer clients were first inline to have their sites reviewed and brought up to date with compliance.
Finally, having the comfort of a retainer hugely assists with managing your marketing budget. By investing in your website through regular payments, you can plan for the activities you want to carry out over the year, together with having a fall-back budget for all those nasty unknowns, which inevitably are hiding round the bend.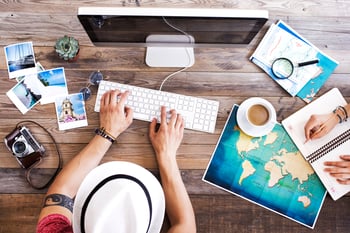 When should I set up a digital retainer and how much should I spend?
The best time to begin a retainer is on the month of website launch. This ensures the momentum created on your website investment is maintained and allows for a seamless transition from demo link to live site environment. The relationship between you and your account manager will be active, meaning your account manager will be best placed to advise you on a reasonable monthly retainer spend. It also means that your website is not left to depreciate for any length of time, it remains at the forefront of your marketing strategy as well as your account managers.
The amount of budget you put into your retainer depends on two things:
The size/scale and technology of your website
Your marketing strategy and future plans
The amount you spend directly correlates to the number of hours available to you each month. Your account manager will work with you to plan how and when is the most effective use of those hours.
If I don't use my retainer hours do I lose them?
No! Ultimate manage a responsible retainer agreement with our clients. We report monthly on the retainer usage, informing our clients how many hours have been spent and on what. Hours can run over onto subsequent months to build up a budget for larger, planned for projects. Equally, we are happy to allow our clients to use more hours than are within their budget if this enables a project to be completed and keeps the pace and momentum, or hits a particular deadline. We believe that as long as both parties are informed, transparent with one another and in agreement, then this method ensures best results all round.
Can I use my digital retainer for other services?
Most of our clients choose to use their retainer budget for dedicated services such as their website retainer or for digital marketing to promote the site. However, some clients opt for a mixed retainer, which allows them to use all of our services including copywriting, presentations and creative design. No two clients are the same and we pride ourselves on our flexibility.
How do I manage my retainer budget?
Account managers at Ultimate provide a monthly report on the retainer usage which allow our clients to keep abreast with their marketing spend. In addition to this activity is managed on a project management tool called Trello. Our clients are given training on using this system as part of their retainer if required. Essentially, it is a central hub for logging future projects, ideas, action points and requests. It helps plan activity and ensures that all team members both client side and agency can have a holistic view of all activity.