Ultimate Short Read
We all know that COVID-19 has swept the world in recent months. From robots patrolling the streets to pocket-size NHS apps, Ultimate examines how technology is being used to track, monitor and even control the spread disease.
As we all know, the coronavirus, better known as COVID-19, has been the biggest global change in recent months. From December 2019, the world changed - and only now are things beginning to settle down. The coronavirus is of course still impacting us all in numerous ways, but slowly and surely, the world is starting to recover.
A more surprising element of the planet's recovery has proved to be the huge reliance on new and developing forms of technology. No matter which sector you think about - from healthcare, to hospitality, to home entertainment - tech has proved to be a huge part of the quest for normality. Perhaps its most important role is, of course, against the virus itself.
Tech is playing a huge role in our efforts to control and minimise the spread of COVID-19: from Track and Trace, highly-sophisticated healthcare check systems, or even informative TV and radio ads, we take a look at some of the key ways that technology is being used against COVID-19.
Apps
Firstly, let's consider the not-altogether-surprising move towards apps. Reactive, efficient and ultra-convenient, we've all heard the old adage, to any issue: 'Hey - there's an app for that'. But it's true - these days, it seems like there's truly an app for everything. From cuddling to finding out where you parked, it can seem a bit as though apps are taking over.

It's not surprising, then, that the UK government has turned to apps in the bid to fight against COVID-19. The NHS Symptom Tracker App was rolled out in May 2020, as a free and easy-to-use symptom checker and way to keep up to date with the latest health and safety guidelines. Easy to download onto your phone, and available to all across the UK, the app brings its users instant alerts, top tips and advice on handling a potential coronavirus infection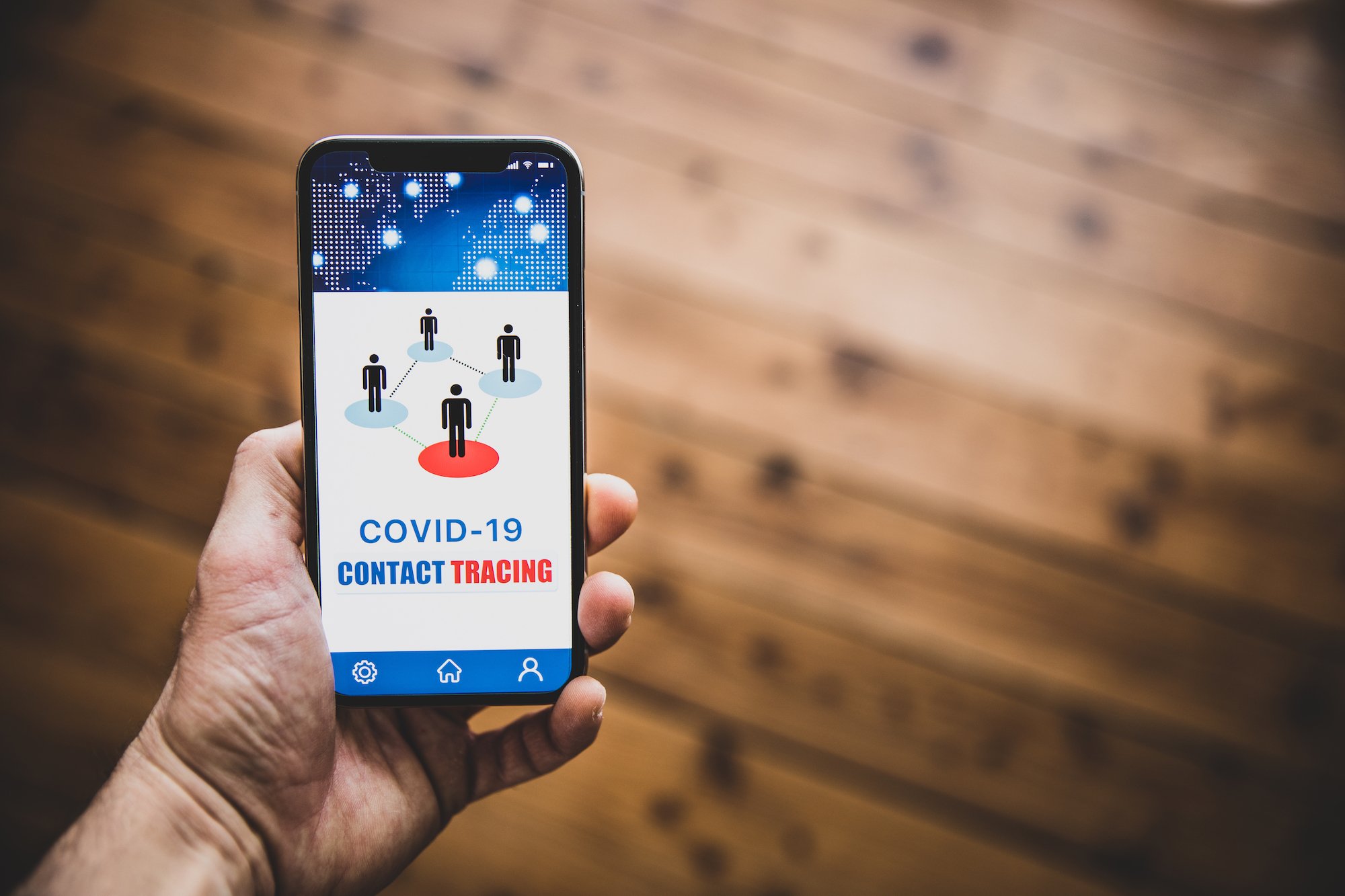 The second major app to be unveiled across the UK is the government's 'Track and Trace' app. Though plagued by delays (the government cited technical issues and flaws in the initial design), the Track and Trace app is set to be the game-changer for tracking interactions with potential spreaders.
The app will work, when released, by letting users who download it voluntarily record details of their symptoms, if they begin to feel unwell or show symptoms. Through Bluetooth signals which transmit a unique ID code specific to each user, the app then logs any close contact or interactions with others. Both practical and pre-emptive, the idea is that the app takes the work out of current Track & Trace methods - each venue relying on manually recording names, addresses and interactions in a different way. This app has the potential to transform the way we respond to infectious diseases around the world, and may continue to do so.
Digital Healthcare
Another increasingly-common gadget popping up in offices, restaurants and shops is the immediate temperature check gun. Allowing many of us to return safely to ways of life, simply point and aim the temperature check gun at the individual's forehead, and the contact-free device reads the person's temperature. If above a normal range (approximately 32-37.5 degrees celsius), the individual should seek medical attention rather than carrying on with their day as normal.

Though infra-red temperature checkers like this are not new, the field of medical digital solutions has seen huge advances since the onset of the coronavirus; with automatic hand sanitiser dispensers, contact-free temperature check stations which do not require manual operation and more becoming the new norm.
Simply put, these advances allow us to get back to a routine which we left behind at the beginning of this coronavirus. Tech, applied in this way, has the potential to bring life back to our world - and may become a cornerstone of 'normal' life - logging symptoms and interactions on apps and daily health checks with digital solutions, may digitise the entire healthcare industry. And it isn't just healthcare which is using technology as a staple of the new normal - check out our recent article on how hospitality is doing the exact same thing.
And...robots?
This is all in addition to the technology working behind the scenes - from the attempt to predict the spread of the disease with artificial intelligence, to drones monitoring crowding, and even to robots patrolling the streets to keep the public from lingering too long, tech is fast becoming a huge part of this global pandemic. So, from apps to digital solutions, it seems we can safely say developments in tech are leading the way in the global fight against COVID-19.
Do you agree with this use of tech? Or, do you have concerns about how and where these apps store your personal data? Let us know your thoughts!