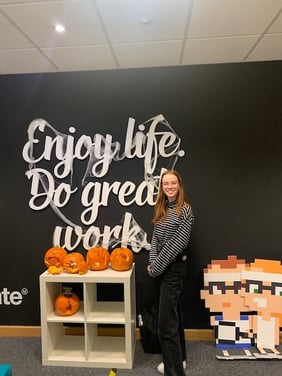 My name is Cara and I'm a 15 year old student in my GSCE exam year of senior school. On the 27th and 28th of October I had the opportunity to take part in some work experience at Ultimate over my half term break. I am interested in art and graphic design and wished to gain experience and an understanding of the industry that incorporates my love of the creative arts.
I worked in the design area of the company and was asked to help design a brand identity for a client. I was given a brief and had to come up with ideas to modernise and transform the brand. I learnt a variety of new skills including how to identify the essence of a brand and used that to design a series of engaging advertisements and stickers. I also learnt how I could adapt the work to suit different target audiences.
The team was extremely supportive and always happy to lend a helping hand when I had any questions or needed input to expand on my ideas and designs. In my short time at Ultimate I noticed there was a strong sense of community and I felt very much accepted as a member of the team. The overall atmosphere of the office was bright and positive and every time I walked in I was amazed by how inviting the place was.
I loved my time at Ultimate and my experience there has really strengthened my passion for graphic design and encouraged me to explore the industry further. My experience here will help inform my choices on what courses I will study in the future.