Okay, hands up if you're sick of the word 'lockdown'...
The UK currently sits in its third (and, hopefully, final) lockdown to combat the spread of the COVID-19 pandemic - and it's safe to say we're all feeling pretty 'over it'. From curbing cinema habits to closing our fave eateries, on the surface, 2021 feels pretty similar to the months before it.

However, we're not trying to pretend there haven't been some huge changes to the way we live, work, and communicate (Zoom quiz, anyone?). Although some of these changes feel pretty obvious - other, subtler changes have been taking place behind the scenes of some of the UK's biggest businesses.

Let's talk digital. Digital Marketing, once thought of as the 'supplementary' marketing to your offline collateral, has suddenly become EVERYTHING. Let's face it - your online presence is now the only presence that matters - and your website is now your new front door.

How have businesses adapted to this virtual world, almost one year into the pandemic - and what are the key takeaways for success, in a world where your Instagram success can make or break you? Ultimate gets our teeth into Digital Marketing, Lockdown Edition, to ask: what have we learned, and where do we go from here?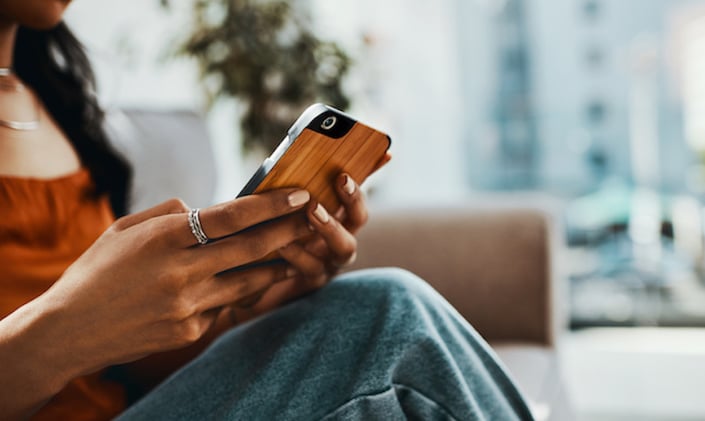 1. Staying Up-to-Date with Data
One of the key lessons our clients have learned from life in lockdown is the importance of staying on top of your data. When the first lockdown hit, most businesses were unprepared for the difficulty of engaging an audience they could no longer understand. During lockdown, almost every business has seen changes it couldn't explain to audience size, habits and behaviour. The same social media post published one month apart could perform drastically differently - with no consistency in impressions, engagement, and leads. Audiences they knew didn't seem to be reacting at all to ads or content how they used to - and in the midst of a pandemic, that's probably no surprise.
But where did that leave businesses?
Quickly, it became clear that the answer lay in our data. The pandemic quickly showed us that staying informed about how your audience - and the general public! - is interacting, browsing, and buying at any given moment is essential to make sure you're using resources in the right place.

For instance, your B2C Instagram post might have unexpectedly tanked at 8.30am on a Monday, where previously this slot gave you your highest engagement rates of the whole week. Under a little investigation, however, the reason for this is clear - without a commute to browse on, peak engagement hours before and after work disappeared. People could simply sit down to start work at 9am, and browse more during their working days. Similarly, your mobile-only graphic might have been a killer post in 2019, whereas 2020 saw almost a quarter of us shift to using desktop or laptops - meaning creative spend is going in the wrong place.

Researching browsing patterns like this helps us to understand where and when to use our resources for maximum effect: if you know how people are checking out your pages, website and ads, you won't be wasting time and effort.

There are 3 sources of digital marketing data that it's essential to focus on to make the most of your digital presence: data from your particular market, data from your business, and data from your website. (It's always good to keep a weathered eye on data from your competitors, too…). Checking out tools like Google Ads, SEO Monitor, Google Trends and even YouGov for trending keywords, search patterns, and even national surveys can give you a clearer picture of what you need to do - without costly or time-consuming efforts.
2. Adapting Your Approach
This kind of data is great - but it only takes us so far. If you understand that your target audience isn't browsing when you thought they were, but you don't bother to modify anything - you're not going to get very far. Most businesses in 2020 were working with an entirely new landscape. Existing marketing patterns that worked great just months ago didn't seem to be connecting with the same audiences - and data gave us a glimpse into why.
So, what do you do with this data, when the old adage 'tried and tested' no longer applies?
The obvious, really: learn from your user behaviour and adapt your marketing model to hit the new routine, pain points and goals of an audience at home. We've mainly looked at B2C examples so far, so let's take a look at how a B2B business might use data gathered through these tools to create a new, agile sales process and methodology.

From March 2020, interactions shifted for B2B business just as much as they did B2C. Audiences began showing a preference of hunting for a good supply deal online even when they had the option of face-to-face meetings - a significant shift in a marketplace once dominated by conferences, meetings and networking events. At almost 50% more likely to begin looking online rather than more analogue methods, with sales meetings happening digitally across the globe, the trend was clear.
Let's look at how you might want to put that data into an actionable marketing plan.
Business X used Google Trends to show the areas of focus for organic search - and the direction that these searches were moving in. By speaking to suppliers and couriers on a regular basis, Business X could then confirm what products were being ordered in by their competitors, to draw patterns between search and purchase. Knowing where the industry focus is at any moment in time then allowed Business X to buy up cheaper or unwanted stock - saving money on inventory where possible.


In addition, asking couriers and suppliers about furlough levels let Business X find out the proportion of their partner companies that were on furlough - allowing them to plan for longer delivery times or a busier schedule. Business X could then build the data onto a daily spreadsheet to inform their daily digital marketing and supplier spend, taking into account adjusting prices, changing profit margins and changing bids. By using the data available to them, and staying responsive to an ever-adapting climate, Business X could ensure their digital marketing data informed marketing efforts as well as their sales and inventory spend. Smart, no?

This sort of data-driven approach is key to making sure you're really rolling with the punches - rather than being left behind, businesses like Business X were able to keep costs low and inventory relevant to what customers really wanted.
3. Change Is Constant
The most important lesson we've learned from lockdown? Trends that digital marketing gurus and software-savvy agencies thought were set to stay can change - and fast. Some predictable digital marketing trends changed over the UK's lockdown - an organic search rise for "desks", for instance, accompanied the nation's switch to home working - but some less predictable trends happened too (a rise in organic search for "pillows" at around the same time- who saw that coming?).
Aside from what we were searching for, how we were searching changed too - Silicon Valley gurus might have had a good laugh at the idea of people returning to desktop search in our billions, but that too was another effect of 2020. Without being able to predict it, human behaviour changed all around the world - which changes everything about what you do and how you do it.
Staying agile is key - and to do that, you've got to invest in digital. Companies embracing a digital-first approach are starting to build on their lead- because as we've seen, the digital landscape is only getting busier, more expensive, and as a result, more difficult to stand out in.

If your business needs more followers on social media, for instance, you're going to have to invest in creative and copy that can grab your audience at the right time and place. If it's a key goal of your business to have higher Google rankings, you've got to be prepared to invest more money into it.
Implementing a digital marketing strategy from a combined Digital Marketing and branding agency like Ultimate can ensure that not only is your marketing fresh, timed and targeted correctly, but that your users are engaging with your brand no matter where they are, or what's happening in the outside world.
Sound good? Feel free to get in touch with Ultimate today - and bring the lockdown lessons you've learned to life, with a fresh new marketing strategy for 2021.
References:
Liberty Marketing, 'Tools to Uncover Your Audience's Digital Behaviour During Lockdown'
Banc, '5 Digital Marketing Wins In Lockdown'
Annica, 'Digital Marketing: What's Working In Lockdown?'