My name is Joe, and I recently graduated with a Masters from Durham University. Since then, I have been searching for opportunities to use my creative writing and research skills. My search had been fruitless until Ultimate offered me a two week work experience!
Ultimate provided the perfect environment for me to use the skills I had learnt at university in a professional and creative setting. I have been working as part of the Digital Marketing team, helping particularly with copywriting and social media. It has been really fun to face a new challenge every day, creating content for different clients, all of which have unique brands. I was constantly kept busy and barely had time to look at the clock, which made the experience feel rewarding.
The team at Ultimate could not have been nicer, helping me establish a firm footing from day one. I felt like a trusted member of the team as I was given plenty of opportunities to write my own content for clients. I felt included from the very beginning, being invited into meetings and asked for my input on other pieces of content and on client websites. This helped me get a grasp on the role more quickly. As the week unfolded, I gained an appreciation for the work that went into maintaining all these sites and creating content for clients. Matching the tone of each site and its audience was a particular challenge, as this varied from client to client.
The team were friendly, with everyone offering help and giving advice where they could. While I was given a lot of work I never felt overwhelmed, and the freedom I was given to work was backed by the reassurance that I could ask for help when I needed it. This made every task seem less daunting, as I knew that if I was struggling there was always someone who could offer aid. I was thankful for their input and all of their advice.
While the Ultimate team does work very hard, it is also a great atmosphere. The atmosphere is friendly, chatty and relaxed, with everyone in the team trusted to achieve their tasks. This atmosphere was amazing to work in, and made me feel relaxed even when I was hard-pressed to complete a task. Of course, I would like to give special thanks to the Digital Marketing department for allowing me to be part of their team and for guiding me through the different aspects of Digital Marketing.
Of course, it came as a bit of a shock when Boris Johnson asked the country to avoid unessential travel, due to the ongoing COVID-19 outbreak and the Ultimate office shifted to working remotely . This did not stop the Ultimate team, however. While the buzz of the office became digital, the team remained in close contact with each other, still producing the same standard of content and running marketing campaigns from afar. The programmers and designers even continued their work at home. It was amazing to see the team rally together, communicate and continue their work despite the circumstances.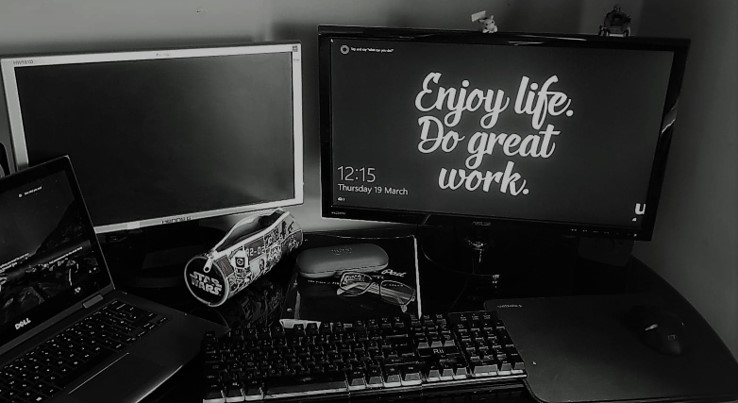 My setup, from home...!
This was a very different experience than I was expecting from my two weeks, to say the least - but I learnt more than I could have hoped for. I learnt the job roles of Copywriting and being a Social Media Executive, and I found out what it was like to be part of a creative team. I also got to experience working from home, (which was very odd because even at University I went to the library to work!)
With my two weeks at an end, I will miss the atmosphere and the people at Ultimate. When I do finally settle into a job, I hope it is at least half as fun as it has been to work for Ultimate. Thank you all, for giving me this opportunity.